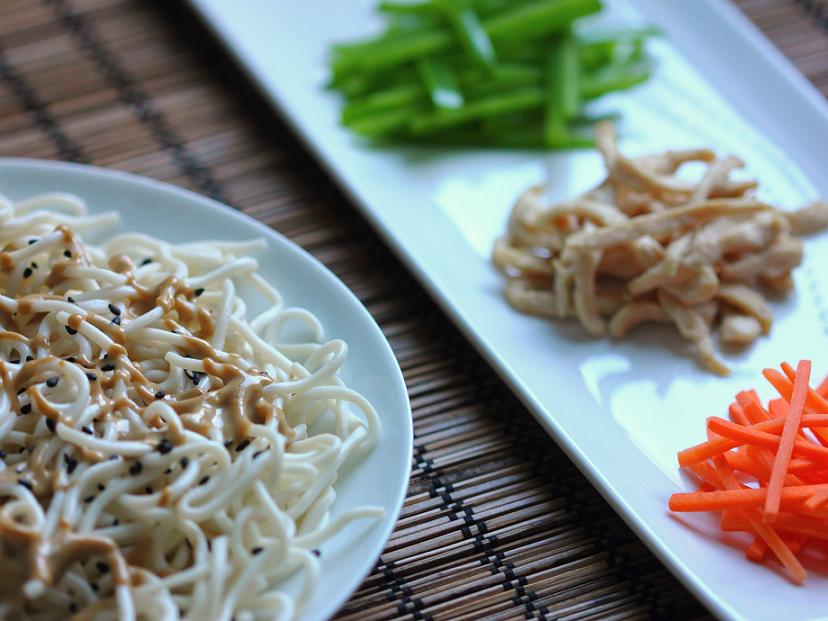 To avid noodle eaters, myself included, the large selection of appetizing cold noodle dishes available to us means we can go about our noodle slurping activities with the same vigor and gusto despite rising mercury levels.
We can have Japanese-style cold soba or udon noodles with a chilled dipping sauce.  Or Korean-style cold noodles dressed in spicy gochujang, or chewy noodles served in a cold broth.
We can also look to China for a long list of cold noodle recipes from various regions across the country.  Among them, one of my favorites is the Shanghai-style cold noodles served with sesame sauce.  In the summer, almost all restaurants and noodle shops in Shanghai serve this dish, as the locals seem to have an insatiable appetite for it.
Here, I'm sharing my recipe for this refreshing noodle dish.  It's quite easy to make at home, and your dish will come out great if you follow a few tips below:
Choosing the right noodles.  Ideally you want to use alkaline noodles, which retain their firm texture after cooking.  Look for sodium carbonate, potassium carbonate, or sodium hydroxide in the list of ingredients on the package.  Fresh or dried egg noodles would also work well.
Cooking and cooling the noodles properly.  Cook the noodles until they're just done without getting mushy.  Transfer them to a colander and rinse under cold running water.  Drain well and stir in sesame oil to prevent them from sticking.  Cool and dry the noodles by lifting them up with chopsticks in front of a fan.
Sauce.  The sauce takes the aroma and flavor from Asian-style sesame paste, which is made from roasted sesame seeds.  It's quite different from tahini, which uses unroasted seeds.  I find mixing in some peanut butter adds creaminess and sweetness, and creates a more balanced sauce.
Toppings.  You can pretty much choose whatever you like.  Try to include something with crispy or crunchy texture, for example bell peppers, mung bean spouts, or pickled vegetables.  Add some protein such as shredded pork, chicken, or sliced pressed tofu, and you get a one-dish meal.
Cold noodles with sesame and peanut sauce
Makes 2 servings
Ingredients
8 oz (230 g) alkaline noodles or egg noodles
4 oz (115 g) carrots, peeled and cut into thin matchsticks
4 oz (115 g) green bell peppers, cut into thin matchsticks
2 teaspoons sesame oil
1 teaspoon roasted sesame seeds
Salt and freshly ground white pepper
Chicken
7 oz (200 g) chicken breast, or shredded rotisserie chicken
½ teaspoon soy sauce,
½ teaspoon Shaoxing wine
½ teaspoon cornstarch
2 teaspoons vegetable oil
Sauce
1 tablespoon Asian-style sesame paste
1 tablespoon peanut butter
4 tablespoons water
2 teaspoons soy sauce
2 teaspoons Zhenjiang (Chinkiang) vinegar
Procedure:
Skip the first 2 steps if you are using rotisserie chicken.  Cut the chicken breast into thin slices.  In a bowl, mix the chicken with the soy sauce, Shaoxing wine, and cornstarch.  Marinate for 10 minutes.
Add the oil to a hot wok or skillet over medium-high heat.  Stir-fry the chicken slices until they turn white, about 1 minute.  Season with salt and pepper.
To cook the noodles, bring a large pot of water to a boil.  Add the noodles and cook until they are just cooked through.  Do not overcook.  Transfer them to a colander and rinse under cold running water.  Drain the noodles well.  Spread them out on a large plate or bowl, and mix in the sesame oil to prevent them from sticking.  Cool and dry the noodles by lifting them repeatedly with chopsticks in front a fan.
To make the sauce, add the sesame paste and peanut butter to a bowl.  Add the water in small quantities and mix well before each addition.  A small whisk does a great job.  Add the soy sauce and vinegar, and mix until the sauce is smooth and creamy.  Add more water if the sauce is too thick.
To serve, toss the noodles with the sauce together with the chicken, carrots, and green peppers.  Adjust seasoning as needed.  Sprinkle with the sesame seeds.

Subscribe to Soy, Rice, Fire

Archives