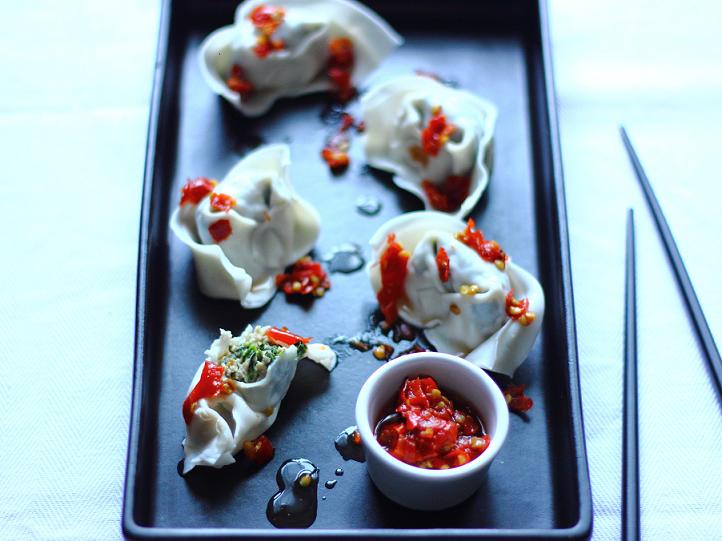 Although wonton originated in northern China, it was in other parts of the country that it evolved into something uniquely local and spectacular.
If you like Sichuan cuisine, you sure can't resist the temptation of "red oil wontons" drenched in a fragrant and spicy sauce made with chili oil, sesame oil, soy sauce, and sesame seeds.
In Fujian Province, there is a special type of wonton called bian shi (扁食).  To prepare the filling, pork is pounded into a paste with a wooden mallet by hand.  It is a long and laborious process, but the end result, a delightful pork filling with a unique texture, makes all the efforts worthwhile.
I also love Cantonese wontons, which are bite-sized and stuffed with minced pork and bouncy shrimp.  They use thin wrappers made from egg and flour which give them their signature yellow color.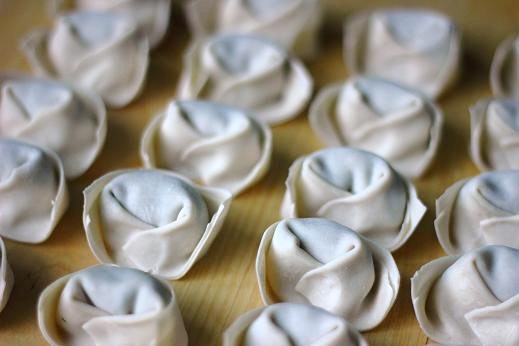 Vegetable and meat wontons (菜肉馄饨), a specialty from Shanghai, use larger wrappers and are stuffed with, as you guessed it, vegetables and meat.  Typically pork and bok choy are used.  However, shepherd's purse, a wild weed with a pleasant and intense aroma, is the preferred vegetable for the filling when in season.  Because of their larger size, they serve as a perfect one-dish meal.
I've created a light and easy summer version of this Shanghainese delicacy for you to try at home.  The recipe uses all store-bought ingredients: frozen chopped spinach, ground turkey (or chicken/pork), and wonton wrappers.  During the summer, I like to serve the wontons dry without a broth.   You can certainly serve them in a broth if you prefer.
Consider scaling up the recipe to make extra wontons as I always do.  Uncooked wontons keep well in the freezer.  Cooked ones keep in the refrigerator for a few days, and can be reheated in the microwave, or turned into a special treat: pan-fried wontons.
Shanghai-style vegetable and meat wontons
Makes about 40 wontons
Ingredients
Filling
10 oz (280 g) ground turkey, chicken, or pork
8 oz (230 g) chopped frozen spinach, thawed and squeezed dry
1 scallion, finely sliced
1 teaspoon finely grated ginger
1 1/2 teaspoons soy sauce
1 teaspoon Shaoxing wine
1/4 teaspoon sugar
1/2 teaspoon sesame oil
1/2 tablespoon cornstarch
1/2 tablespoon salt
Freshly ground white pepper
1 lb (450 g) square Shanghai-style wonton wrappers
Pickled chile peppers or Sriracha sauce (optional)

Procedure:
Mix well all the ingredients for the filling, and let stand for 10 minutes for the flavors to blend.  Cook 1/2 tablespoon of the filling in the microwave to taste the seasoning and adjust as needed.
On a work surface, lay out a wonton wrapper in front of you and place 1/2 tablespoon of the filling in the center of the wrapper.  Moisten the top edge as well as half way down the left and right edges with water.  Fold in the top edge to be about 1/4-inch (6 mm) above the bottom one.  Press to seal the edges.
Moisten the upper right corner with water.  Holding the wonton in your hands, slightly lift the center while bringing the two corners around to overlap, right corner underneath.  Press to seal.
Repeat with the remaining wrappers and filling.
Cook the wontons in boiling water until they stay afloat and fully cooked.
Remove the wontons from the water and drain.
Serve hot or warm.  For the final touch, garnish with pickled chili peppers or Sriracha sauce (or any condiment of your choice).

Subscribe to Soy, Rice, Fire

Archives