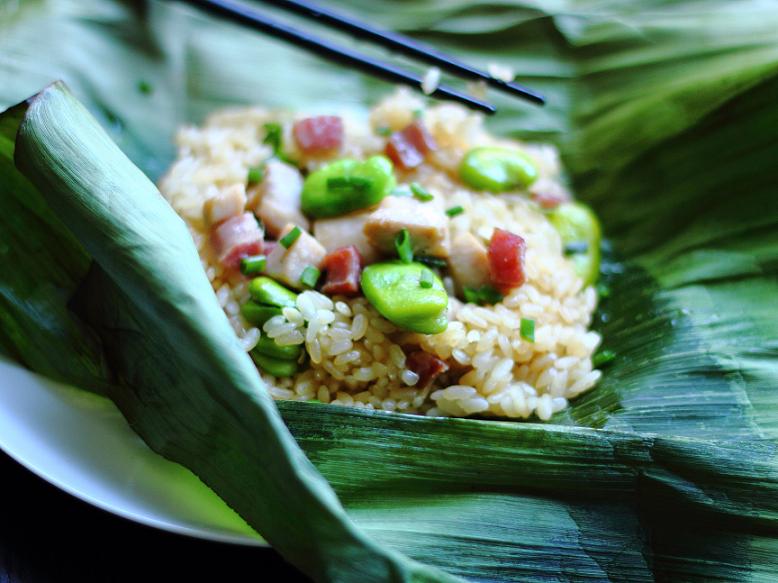 I love the time-honored tradition of cooking food wrapped in aromatic leaves, bark, or other natural materials.  The wrappers keep moist and heat inside, allowing food to steep in its own juices.  They concentrate the aromas of the filling and impart their own subtle fragrance to the food.   Besides, they are perfect vessels for carrying and serving food.
Many cultures have created culinary wonders with this ancient tradition: stuffed grape leaves as dolmas in Turkey and Greece, tamales wrapped in corn husks in Mexico, and coconut glutinous rice in banana leaves called khao dome in Thailand and Laos, just to name a few.
Among the many Chinese delicacies prepared and cooked this way, zongzi is probably the most popular across China, with numerous regional variations.  A typical zongzi is made with glutinous rice wrapped in bamboo or reed leaves.  It can be either savory or sweet depending on other ingredients used in the filling.  Outside China, glutinous rice with chicken in lotus leaves, or lo mai gai in Cantonese dialect, is the most well-known dish, and definitely a favorite at dim sum restaurants.
If you are a big fan of this dish, you can follow my recipe below to create a wonderful dim sum experience at home.  I've tweaked the classic recipe with a refreshing seasonal touch, by including fava beans in the filling.  The smooth and creamy texture of fava beans works in great harmony with the soft and sticky rice. Their unique aroma gets a boost when wrapped and steamed.
In China, fava beans are available and consumed in abundance during early summer.  Finding these lovely beans in the US could be a challenge, but still possible if you are curious and determined enough.  In Manhattan, I've spotted fresh ones in the pod at Manhattan Fruit Exchange and frozen ones from Italy at Buon Italia, both at Chelsea Market.  Fairway Market carries both fresh and frozen ones.  If you can't find them, substitute with other beans such as green soybeans (edamame) or lima beans.
My recipe uses banana leaves instead of dried lotus leaves, as I've found that banana leaves are more easily available in Asian grocery stores (look for them in the freezer section) and more aromatic.
Glutinous rice with chicken
Makes 4 parcels
Ingredients
8 oz (230 g) glutinous rice, soaked in warm water for 2 hours.
5 oz (140 g) chicken thigh or breast meat, cut into ½-inch (1.3 cm) cubes
2 oz (60 g) shelled fava beans, from 8 oz (225 g) fresh fava beans in the pod
2 Chinese sausages, quartered lengthwise and cut into ½-inch (1.3 cm) pieces.
1 glove garlic, minced
1 scallion, thinly sliced
2 teaspoons soy sauce
2 tablespoons water
1 tablespoon vegetable oil
1/8 teaspoon salt
Freshly ground white pepper
Banana leaves cut into 4 pieces of 12 x 10 inch (30 x25 cm) rectangle
Marinade
1 teaspoon soy sauce
1/2 teaspoon grated ginger
1/2 teaspoon Shaoxing wine
1/2 teaspoon cornstarch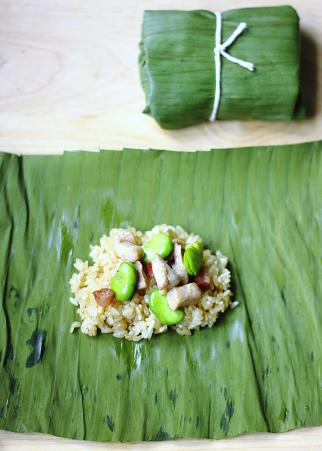 Procedure
Steam the rice in a steamer lined with cheesecloth for 30-40 minutes, or until soft.
Transfer the rice to a large bowl and gently fluff with chopsticks or a fork.  In a separate bowl, mix the soy sauce and water.  Pour the mixture into the rice and mix well.  Cover with a plastic wrap.
In a bowl, mix all the ingredients for the marinade and add the chicken.  Marinate for 10 minutes.
Add the oil to a hot wok or skillet over medium-high heat.  Add the garlic and cook until fragrant, about 30 seconds.  Add the chicken and stir fry for 1 minute.  Add the fava beans and sausage, and continue to stir fry for another minute or two, until the chicken is just cooked.  Season with salt and pepper.
To make the parcels: divided the rice into 4 equal portions.  Lay out a piece of banana leaf on a work surface.  Place one portion of glutinous rice in the center of the leaf and form roughly into a 4 x 3 inch (10 x8 cm) rectangle.  Spread a quarter of the chicken mixture over the rice.  Sprinkle some scallion slices on top.  Bring in the 4 sides of the leaf to form a rectangular parcel, and secure with kitchen twine.
Steam the parcels for about 30 minutes, or until they are very soft.
Serve immediately with your favorite tea.   Drizzle a few drops of Sriracha to add a spicy kick if you like.

Subscribe to Soy, Rice, Fire

Archives